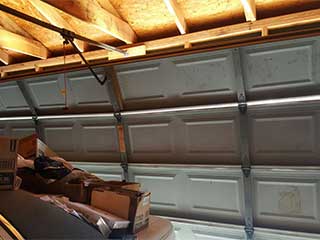 Making sure your garage door system is repaired in a timely fashion when something goes wrong with it is incredibly important. However, by having our technicians regularly inspect and service your door and its various components, you'll be able to reduce the amount of accidents that occur and extend its longevity by no small margin.
Proper Opener Maintenance
The motorized unit that powers and regulates the movement of your door is obviously a very important part of the system. Therefore, making sure that all of its components are in a good working condition can be downright crucial. Our team will check the rail and the drive-system for damages, and make sure that all of the different features your opener may have, such as the auto-reverse and the backup battery system (if you have one) are functioning correctly. We'll also test the photoelectric sensors and make sure that their lenses aren't scratched and that their alignment is correct.
Springs Need Additional Attention
Your garage door springs are another key focus point of our regular maintenance appointments. These components require some extra attention due to the fact that they are essentially the "muscles" that support and facilitate the door's movement. We'll inspect the condition of their coils, lubricate them, and adjust their tension as necessary to make sure they aren't overstraining. This will reduce the wear and tear damage they go through, and keep their performance silent and efficient.
Thoroughness Is Our Motto
By regularly examining every hardware part of the system, including the rollers, tracks and the door panels, our team will be able to effectively prevent all sorts of problems from manifesting. We'll straighten out any dents in the tracks, replace the rollers if they wear out and treat any cracks and damage to the panels with the right solution.
It's Never Too Late
Don't wait for tomorrow when you can call our team at Garage Door Repair Dickinson and schedule a maintenance appointment today. You'd be amazed by how good your overhead door will perform afterwards.
Our team can also take care of:
Roll up Garage Door Maintenance
Garage Door Remote Clickers
Broken Garage Door Spring Replacement
Overhead Door Repair & Installation