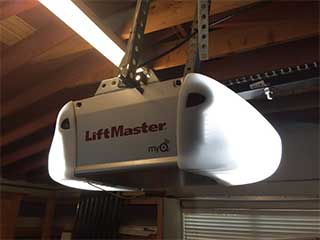 As with many electro-mechanical devices, extensive use of your opener can cause malfunctions to develop over time as a result of wear and tear. If your unit is no longer functioning as it should, our technicians can quickly determine whether your unit simply needs a new part, reprogramming, or needs to be replaced altogether. Since we work with all the major brands, no model is beyond our area of expertise.
There Are Three Major Types
The first thing to understand is that there are three main types of opener system. Each one, whether chain drive, belt drive or screw drive, comes with its own proprietary features. Of the three, chain-driven openers tend to be the most economical in terms of cost but are not likely to be for those who seek silent operation. If you are seeking a unit that requires very little in terms of maintenance, screw-driven mechanisms are probably your best fit, while silent operation and durability are what you will experience with belt-driven units.
Maintenance For Security
Garage door openers are not only convenient but are also an important aspect of home security. If not kept in good condition, you may find that the opener suddenly or gradually stops working as intended, leaving your garage inaccessible, or worst case scenario, unsecured. Our technicians can quickly resolve any issues you are having, from installing a battery backup system to ensuring your unit is Wi-Fi compatible. If your opener has developed a fault, our technicians can troubleshoot the malfunction and make any repairs necessary.
Repair And Upgrades
All the parts of your opener play a vital part in the working of your garage door, so when one of the components becomes damaged, it can stop the whole system from working. Our technicians have a lot of experience when it comes to troubleshooting and uncovering root causes.
Our experienced technicians are here to help you ensure that your opener is working optimally and safely. We will always conduct a thorough inspection during a service visit. Having doubts about the safety, reliability and functionality of your garage door opener? Call us today for service you can trust.
We also offer the following:
LiftMaster Garage Door Opener Repairs
Galvanized Torsion Spring Installation
Extension & Torsion Spring Replacement
Garage Door Opener Track Maintenance