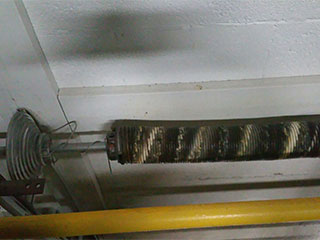 It's the nature of every load bearing component to eventually wear and out. Your garage door springs are no different. As fatigue builds up they run the risk of breaking altogether, which can put your door out of commission completely. Our technicians can replace these components when something like that happens, getting your door back in working order quickly and safely.
Broken Spring Replacement
When such a component breaks, replacing it becomes a major priority. It's often impossible to use the door until the problem is address, and if it's possible, doing so will be highly ill-advised. The springs are in charge of supporting the weight of the door and provide it with tension-based force that helps it move. If their condition is compromised, so is your safety.
Expert Maintenance Services
It's inevitable that your overhead door springs will wear out eventually, but regular maintenance will substantially increase their lifespan. By applying them with lubricants that prevent corrosion and ensure smooth operation, and by carefully adjusting their tension and weight distribution, our technicians can extend the working life of your springs by a significant margin.
The Different Types
The most common type are torsion springs, which are stronger, more reliable and safer than their counterparts. Components of this type are installed horizontally above the door, and use torque in order to pull the panels up via lift cables. They are strong enough that oftentimes only a single unit will need to be installed. Extension springs are the older type, which is installed in pairs, one on each side of the door. They stretch as the door lowers, and contract in order to lift it back up. Nowadays, they are mostly used where headroom space is very limited, as they mostly require backroom space and not the former.
Important Spring Safety
We strongly recommend that you don't try to adjust or replace these components by yourself. These components can be very dangerous if not handled by professionals, thanks to the high amount of tension they are under. Whether you're in need of an emergency spring replacement or some expert maintenance, our experts at Garage Door Repair Dickinson can help. Be sure to contact us whenever you find yourself in need of professional assistance.
Looking for more? We also offer:
Part Replacement & Lubrication
Belt Drive Opener Installation
Extension Spring Adjustment
Emergency Garage Door Repairs