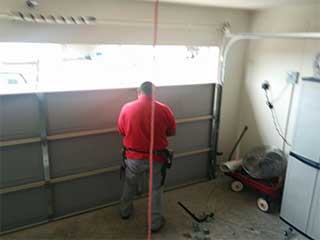 There are plenty of things that can go wrong with your overhead door system. From an opener that just won't move to dented tracks that will prevent your door from moving smoothly, and may even cause it to collapse. Our technicians know how to expertly solve any problem, regardless of which part of the system is causing it.
Dealing With A Broken Spring
This is one of the most common problems that most garage door owners will eventually experience. The tough torsion or extension springs that support and counterbalance the weight of your door won't last forever, and when they wear out enough they will end up snapping, which will probably cause the door to slam shut and make it inoperable. When this type of scenario happens our technicians will be there to safely disconnect the damaged spring and install a new one in its place. We strongly recommend that you do not attempt this type of procedure on your own; if not handled properly, garage door springs can be extremely dangerous.
Professional Opener Repair
The most complex part of your overhead door system is by far the opener. This electromechanical device consists of many moving parts, any of which can develop a whole range of issues. Circuit boards can glitch or fry, safety sensors can be knocked out of alignment, motor gears can fail and rail systems can be damaged. Our technicians will carefully identify the underlying reason for your opener's failure and quickly fix what's wrong with it.
We Won't Neglect The Hardware
Your garage door rollers, tracks and panels can all develop some type of damage overtime, whether it's rust, dents or just gradual wear. All of these problems can cause the system to work slower, and may even force the door off track. Our technicians can straighten out bent tracks, replace worn rollers and fix damaged panels, so you can rest assured that your door will quickly return to its normal working condition if you give our team a call.
Don't Wait For Tomorrow
If you find yourself in need of professional assistance, don't hesitate. Contact our team at Garage Door Repair Dickinson and we'll send someone over right away to fix whatever is causing your system to malfunction.
Count on us when it comes to:
Torsion Spring Adjustment
Opener Sensor Replacement
Garage Door Safety Inspections